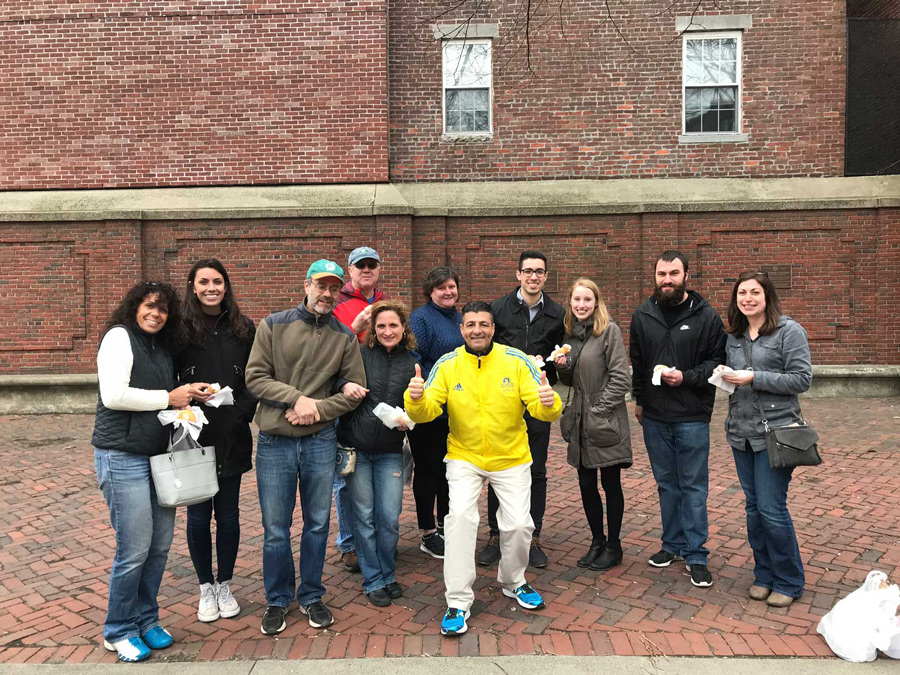 North End Boston Food Tour
Get to know the North End with an experienced lifelong resident Robert Agrippino.
Our North End Food Tour is a leisurely-paced walking tour that carves a path through the streets of the charming North End. Combine the North End history with Boston's best Italian foods. Explore out of the way establishments and off the beaten path areas. Experience Italy in one of Boston's oldest neighborhoods the North End – Little Italy. All your senses will be sharpened by the aromas of the North End Boston's pizzerias, restaurants, bakeries, pastry shops, and salumerias.
Along the way, you will stroll the cobblestone streets first settled in 1630 and see Paul Revere house, the statue of Paul Revere, St Stephens church where Rose Kennedy had her baptism and funeral, the Old North Church and Copp's Hill Burying Ground. And you will see some hidden gems and learn about some of the organized crime events in which only someone that has lived here all his life can show you.
Experience Italy in Little Italy of Boston, no passport required!
Our tours offer Full Meals and can be Corporate Tours (team building) and Group Tours!
Purchase a tour or gift certificate today!​
We meet up for each tour at the Tony DeMarco Statue, on the corner of Hanover and Cross Street, Boston, MA, United StatesUnited States
THE BEST ITALIAN FOOD TOUR OF BOSTON
Loved this tour! Whole family did (and we're local!)
I booked this tour as a gift to my husband and father for Father's Day. We took the tour with my 2 daughters and my Mom. We live 20 minutes from the North End, go there all the time for dinner, but this was QUITE an experience! We enjoyed such delicious food and amazing commentary by Bobby! We learned a lot. He is an amazing tour guide, love his personal insight into this area. We even got to meet his Mom! 🙂 Totally recommend this tour - all 6 of us enjoyed this day, still talking about it and the food weeks later! And recommending to anyone who will listen! 🙂
Pam S, Boston, MA
Understanding the true colors of Boston's Little Italy.
I was pleased with the cultural insights and personal heritage that Robert gave during the tour. The food tastings were generous proportions and he also gave good authentic restaurant recommendations for our next visit. I recommend this tour for anyone interested in understanding the true colors of Boston's Little Italy.
Victoria S., Boston, MA
Great food, great company and great memories.
We had a wonderful time with Robert. Great food, great company and great memories. What better way to take a tour with someone who grew up in the North End. We have been to the North End many times and knew some of the history but Robert gave us so much more. He was passionate about this place he calls home. I highly recommend this tour and with Robert it makes it even better.
Cindy D., Everett, MA
Fun, educational and well worth it.
We met at the Tony DeMarco statue, kind of the gateway to the North End. This is Robert Agrippino's business and he is the tour guide. Bobby grew up in the North End/Little Italy section of Boston. His tour includes stops at numerous locations for a variety of delicious Italian foods. The last food location is Mike's Pastry for a cannoli (do not miss this). But, this is just the food portion. On this walking tour, Bobby took us to a number of places having historical significance not only to Boston but also to the North End/Little Italy section. This is a great tour – fun, educational and well worth it. It seemed like just about everyone knew Bobby. He is a great tour guide. Take this tour if you have the chance and be certain to include it on your Boston trip.
Thomas C., Castle Rock, CO
Fantastic afternoon with Robert
We had a fantastic afternoon with Robert as he not only led us through a tour of the North End but also filled us in on how the neighborhood has changed from the past. Robert grew up in the north end and knows all of the best spots and the people who own them. The food was also fantastic, especially the pizza from his sister's restaurant!
Zack G.